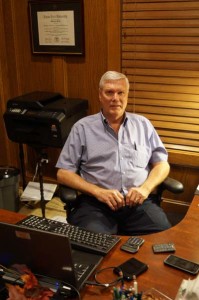 Rik Morris is a licensed professional consulting engineer in Texas.
His engineering career has spanned 40 years. Through those years he has owned a small business and worked for a national and an international corporation.  He is a certified energy manager (CEM) by the Association of Energy Engineers. He is designated by the U.S. Green Building Council a LEED accredited professional.  He has authored several articles in technical journals.
Rik is an active member in his church and community. He stopped drinking alcohol and using tobacco in August of 1982.  Since then, he has helped hundreds of people stop their addictions.  Rik is experienced in counseling and leading support groups, which gives him great satisfaction.
One of his passions is helping people make good choices.  Rik believes that when a person makes consistent good choices then doors will open and a positive pathway will appear.
Rik and his wife of over 35 years have two daughters and three grandchildren.  Rik enjoys travel, reading, grilling and eating great food.
This blog is an extension of some of his inner thoughts and observations about the world around him and life in general.